Scent review - Part 3.
March 20, 2020 | read
Part 1: link to first one
Part 4: link to second one
There was a recent firesale on Candlescience, so I ended up purchasing 17 different types of scents. I'll split my reviews for this purchase bundle into two posts.
To recap (or preface), the reason why I'm writing these reviews is to catalog my experiences and opinions working with different fragrance oils so others have another datapoint to reference when picking out their fragrance oils. Each fragrance oil review will contain a short description of how I take in the scent, and some pairings that I think would go well with it.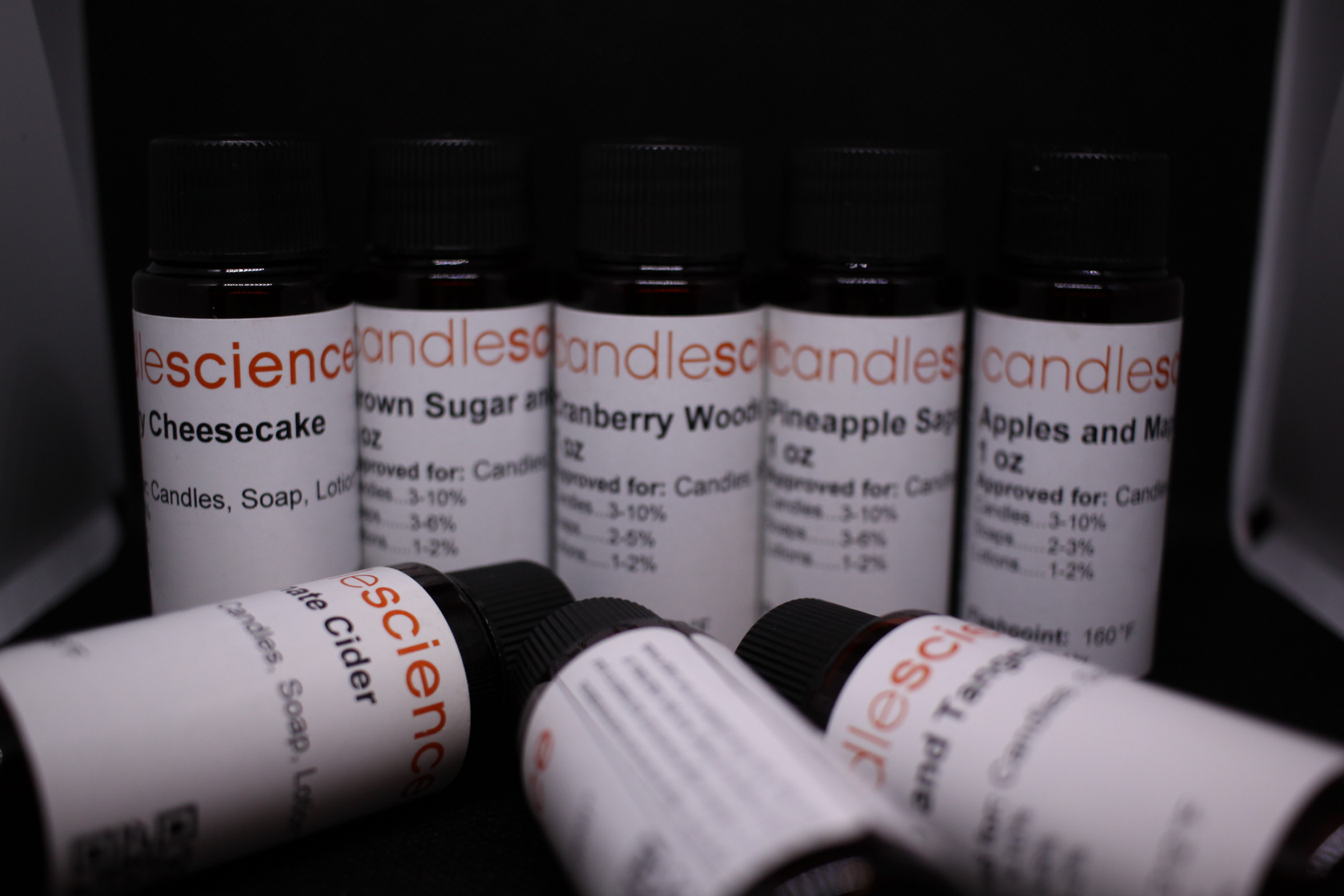 For this edition, we'll be featuring:
Mango Tangerine
I love this smell. It's a very well-balanced and fruity smell. The tangerine is very light, and the mango is just the right amount of tangy. The mental image that arises upon smelling this scent is a mango that is just about to ripen. It's ripe enough where there's this freshness kick to it. Then there's a tangerine by the mango's side and the tangerine expresses a bright orange exterior.
This scent is such a refreshing scent. I think it can go well with anything really. From the dark husky smells of fireside to sweet vanilla. I can't wait to try this out in my candles.
Peach Nectar
This is a rough, heavy smell. The peach comes in at the very end — like flashing light in a room flooded with darkness. It's hard to describe what the initial smell is when you first open the bottle. That first whiff just smells heavy. What I can say is that the first whiff does a good job emulating a viscous feeling, a character that peach nectar embodies.
I'd try pairing this with something fresh. I feel like a complementary scent would be one that is able to draw out and enhance the peach while still delivering the thick experience.
Cranberry Woods
The cranberry is very light in this scent. It has a rather musky smell, so forest and woods-like feelings are emitted. It does a great job reminding me of Thanksgiving, and I think I unintentionally salivate from this smell. It's a very fall-esque fragrance, and I could see this being a huge hit during cold weather season.
Pomegranate Cider
This one has a very warm and neutral smell. I don't eat a lot of pomegranate, so judging its accuracy is a bit tough for me. I am able to discern the cider notes. There is a crispness to this scent that is similar to the crisp aftertaste of sipping martinelli's apple cider. This scent has a very progressive profile as there's no sharp edges in its aura.
I think this can go good with something bold. Maybe peppercorn pomander, or a whiskey. It has the notes to help balance the composition.
Brown Sugar and Fig
The fig is pretty hidden in this fragrance. I'm unable to detect anything other than the brown sugar. It may be because of my familiarity with brown sugar (I eat it everyday with my overnight oats), but this fragrance seems to be only brown sugar.
I'm unsure of what I can pair with this scent. I think this scent could go well in cases when you want a stronger and darker sweet profile to accentuate your existing profile.
Apples and Maple Bourbon
This scent is very sweet. In my opinion, it's pretty similar to Brown Sugar and Fig, but differs in that it has a sharper kick due to the nature and distinction between Maple and Brown Sugar. Plus it's important to note that the maple isn't the common "Maple Syrup", but rather "Maple Bourbon". That's where the strength of this scent comes from.
On the other hand, the Apple seems lost in this fragrance.
I can see this fragrance pairing well with the cranberry woods fragrance. I think the sweetness embodied in this fragrance well help warm the forest-y natures from the cranberry woods to deliver a comfortable composition.
Blueberry Cheesecake
Mmmm, I guess this smells like blueberry cheesecake. You can smell the creaminess of the cheesecake with the tartness of the blueberry. I might be wrong, but there seems to be a hint of graham cracker in there too.
As of now, I'm unsure what to pair with this. Given that it's already pretty sweet, I'm thinking potentially something earthy to balance the scent? Then again, both scents could end up clashing given their innate differences.
Pineapple Sage
This is a very light, tropical and refreshing scent. There's a citrus and tangy kick from the pineapple, and bold, grounded flavor from the sage. This fragrance makes me think of the carved-out pineapple drinks that tourists have on the beach.
I'd suggest considering this scent when trying to embody a relaxing vibe in your candles.
---