Scent review - Part 4.
March 22, 2020 | 4 minute read
Part 1: link to first one
Part 2: N/A. I don't know why I skipped 2 and went to 3 🤷.
Part 3: link to third one
This is the 3rd installation of many where I purchase fragrance oils and write reviews upon them. Sometimes I'll have feedback that's backed with usage of the fragrance oil in wax, and other times it'll just be feedback purely off of out-of-bottle experience.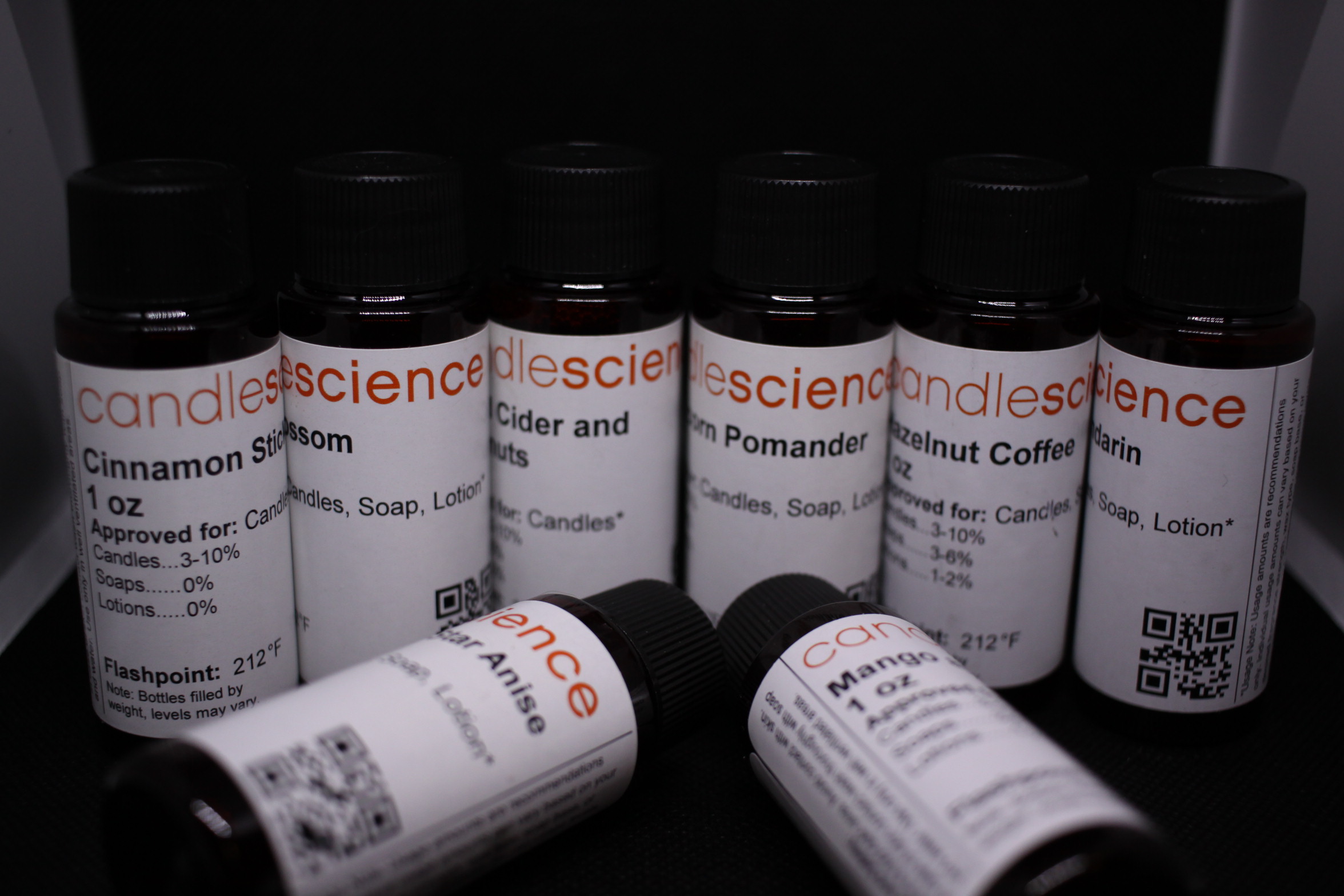 For this edition, we'll be featuring:
Mulled Cider and Chestnuts
Cinnamon Stick
Welp. This smells just like a cinnamon stick. No points of confusion here. It's comprised of spicy, sweet, and floral notes of cinnamon.
I think this could go great with something that's warm or fall and winter-y. Maybe a coffee, sandalwood, or even a whiskey would go great with this fragrance.
Peppercorn Pomander
Now this is a fancy scent. I've never seen or had a peppercorn pomander before, but from this fragrance, I'd categorize it as very floral and lightly spicy. The floral nature of this fragrance seems to be tied to something tangerine-like. It has a citrus aspect to it, but I'm unable to come up with a deeper description.
I can see this fragrance being paired with something more harsh. Maybe fireside, smoky whiskey, or a dark cedar. I think this fragrance oil is an edge-case where combining one bold fragrance with another could compose into something strong, yet not overpowering.
Citron and Mandarin
Citrus. Light. Refreshing. It's a simple and very flexible scent. Very clean. There isn't much else to say about this scent.
I can see this pairing well with other citrus-like scents to create a summer-time fragrance.
Hazelnut Coffee
This scent is deep. The hazelnut really comes out in this fragrance. It brings with it a deep drag of nutty flavors along with a warm aroma of coffee. It's interesting. I don't think both the hazelnut and the coffee complement each other. Both flavors are distinct, and their profiles split when smelled out of the bottle.
Given the opposing flavors, I'd suggest not purchasing this fragrance.
Mulled Cider and Chestnuts
Another nutty flavor. The cider is rich, and the chestnuts are calming. This fragrance isn't sharp. There's no kick to it. This fragrance seems to be a good medium flavor, where it's able to provide the foundation to blend with whatever compositions it's composed with.
I'd be curious to pair this with a sandalwood or cedar.
Black Cherry Merlot
This is a dark flavor. There's depth with the cherry. It's a neutral flavor. It's kind of sweet, but you won't get it from the first couple of whiffs. I'll concede that it does exude a sense of sophistication and luxury. When I smell this fragrance, I think of a beautiful woman draped in a heavy, red, dress. That might just be the merlot's doing.
Orange Blossom
This fragrance is light, sweet, and refreshing. It's on par with a lot of the other fruit scents. There is like a hint of lush floral and tea to this scent.
Given how light it is, I'd suggest pairing it with other similar light flavors. I don't think it can mesh with dark and rich scents. The contrast between those with Orange Blossom will be too harsh.
Coconut Milk
Is coconut milk a juice? It smells more like a juice than a milk. It has a light sweet smell. I wouldn't peg this scent as being unique. I'd say it's more on the basic side and could be easily swapped out with any other fruit fragrance.
Not a huge fan. There doesn't seem to anything special of this fragrance. It actually smells a lot more like pineapple than coconut.
Cardamom and Star Anise
Oooh. A very interesting fragrance. It composes mainly of spice, and really kicks. If you want a fragrance that is unique, complex, and opens the opportunity for atypical compositions, this is a must-have. I personally like it. After smelling multiple citrus, tropical fragrances, having a scent this different is revitalizing.
I can see this going great with a coffee, or another dark and rich flavor (maybe the merlot).
---